The StonhengeUS Outdoor Bar Kit makes you a super host, allowing you to serve refreshing drinks to your guests while allowing them a place to pull up a chair and spark conversation. Standing at 39 inches with its stainless steel working countertop, integral wine bucket and beverage bucket, stainless steel doors with access to storage underneath and its striking charcoal granite countertop. Our kit comes ready to stone so you can customize the look and feel to match your existing setup.
Bar Features
72" L X 36" D X 44" H
39" high stainless steel working countertop
Built-in wine bucket
Built-in beverage bucket
Base Features
The double wall stainless steel doors are pre-installed into the base for extra storage below
Steel base (ready for stone)
Charcoal granite countertop
Interior storage area

Galvanized wire

Zinc coated
Add stone of your choice at any time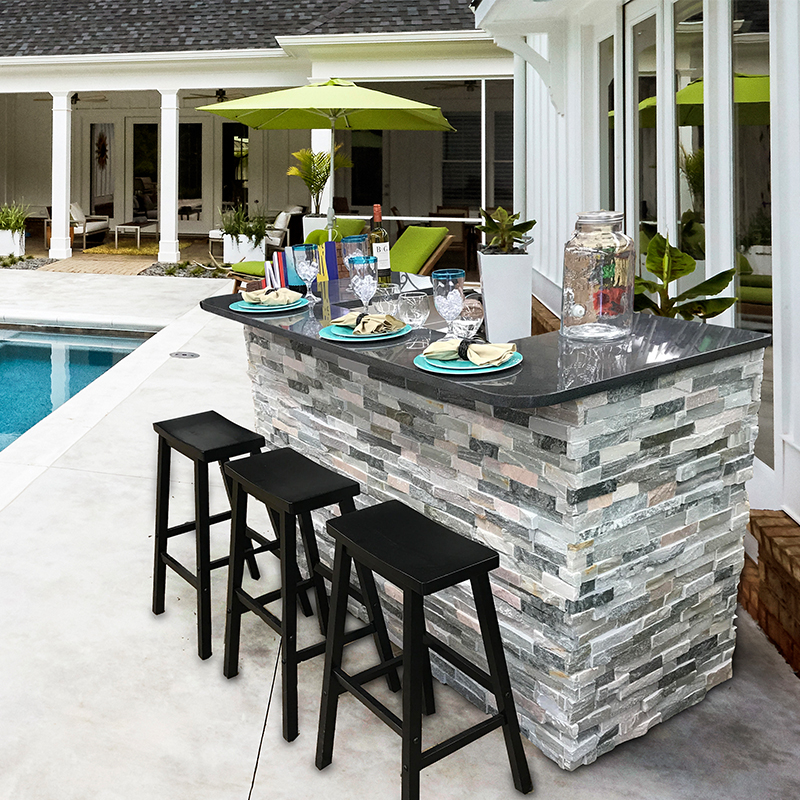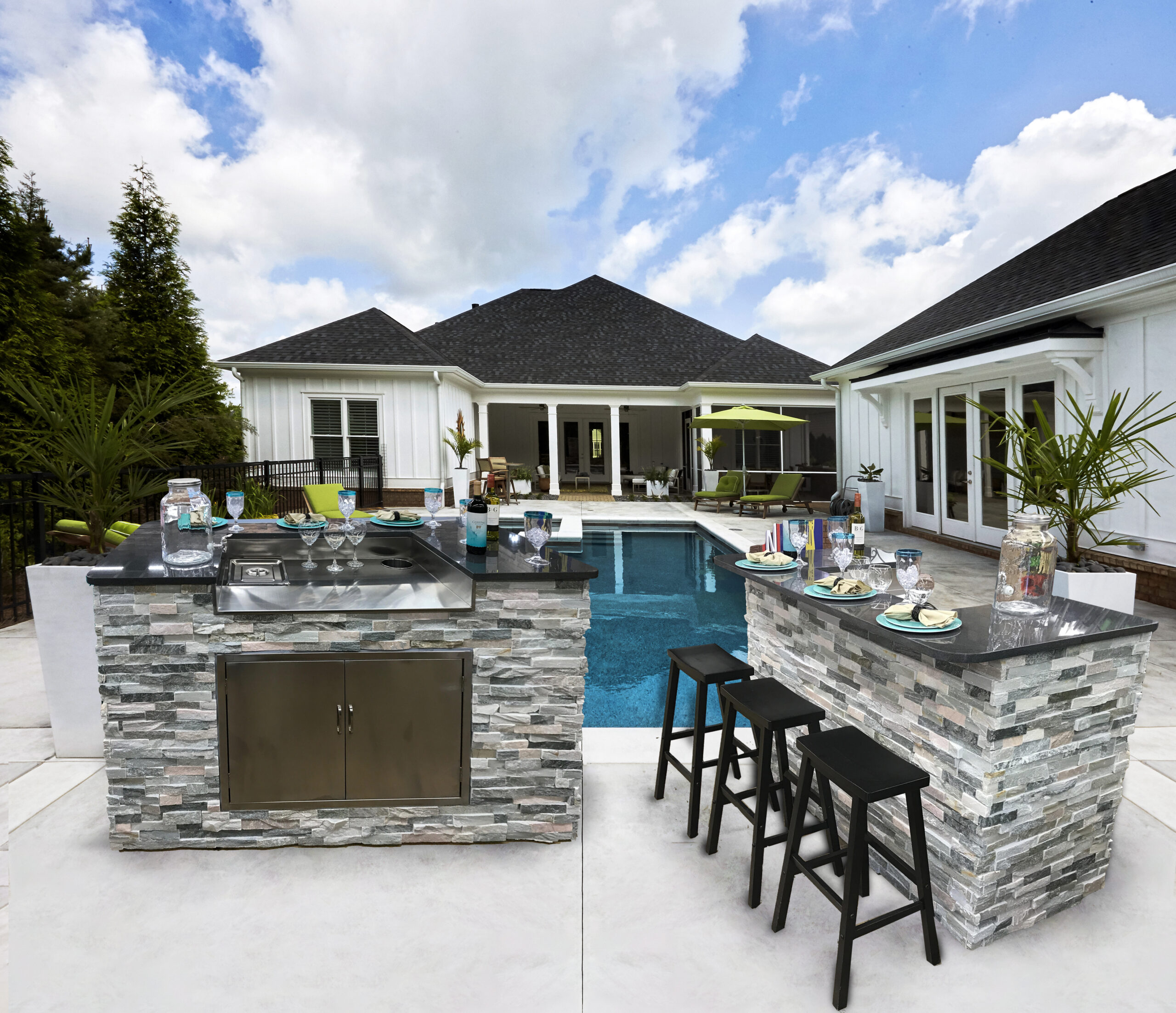 StonehengeUS Outdoor Bar Kit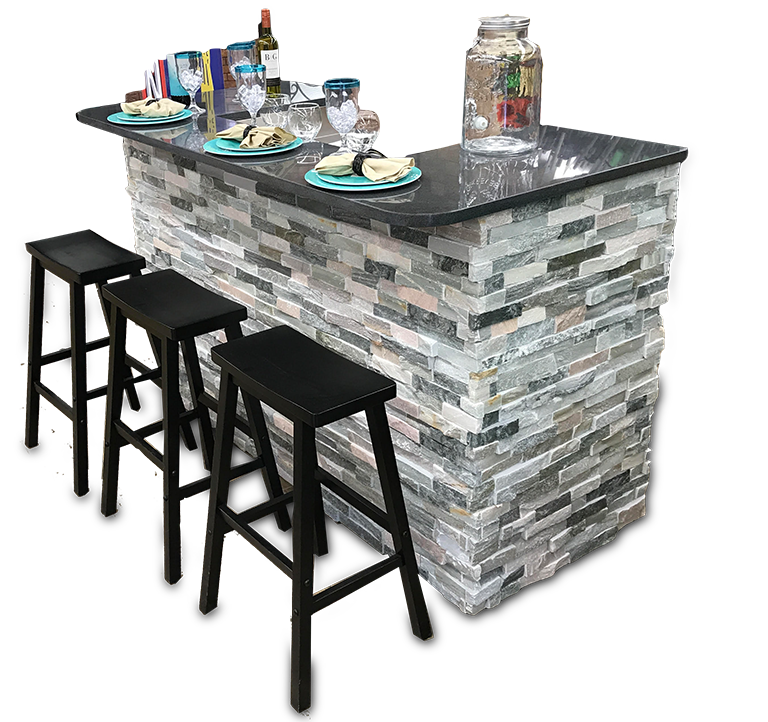 Outdoor Bar Kit
*SHOWN WITH SIERRA BLUE LEDGESTONE AND BAR STOOLS SOLD SEPARATELY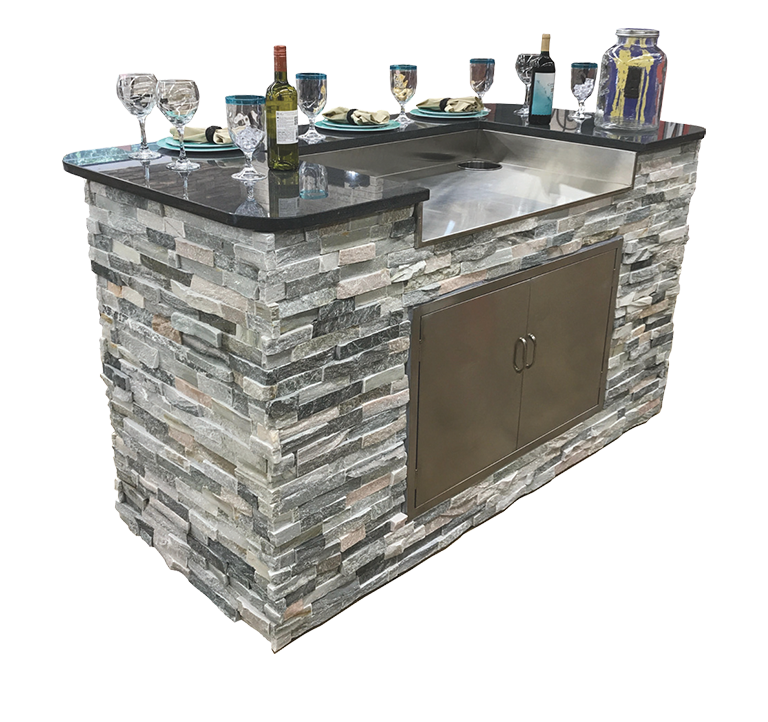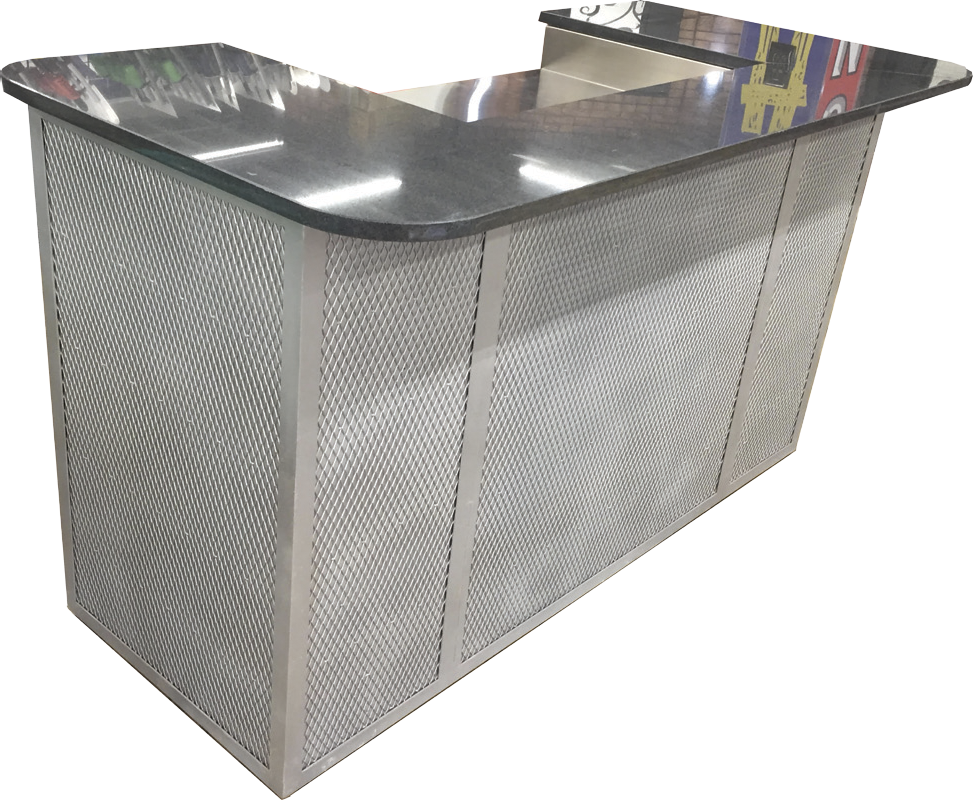 Why the StonehengeUS Outdoor Bar?
Quality
All StonehengeUS products are made from high-quality materials. We use precision machinery and procedures to ensure accuracy. All StonehengeUS products are thoroughly inspected before shipment.
Easy Entertainment
The StonehengeUS outdoor bar easily adds entertainment for your guest to your space with little effort. Allowing you and your guest to stop by the bar for a refreshment and conversation. The integral ice bucket allows you to keep drinks cool during the hot summer days/nights.
Warranty & Support
All  outdoor living products come with our standard warranty coverage. Peace of mind is important when purchasing a stone products. StonehengeUS is a New York based company with both salesman and technicians servicing all of New York, New Jersey, Connecticut and Pennsylvania.
Ready-to-go Outdoor Bar Kit
Did you know that you can easily become the star chef of your outdoor gatherings this summer? The secret? A StonehengeUS BBQ grill kit! Amaze your guests with our StonehengeUS BBQ grills. Our grills have been thoughtfully designed and built for maximum enjoyment, convenience and flavor! Our grill kits come ready-to-go with everything you need.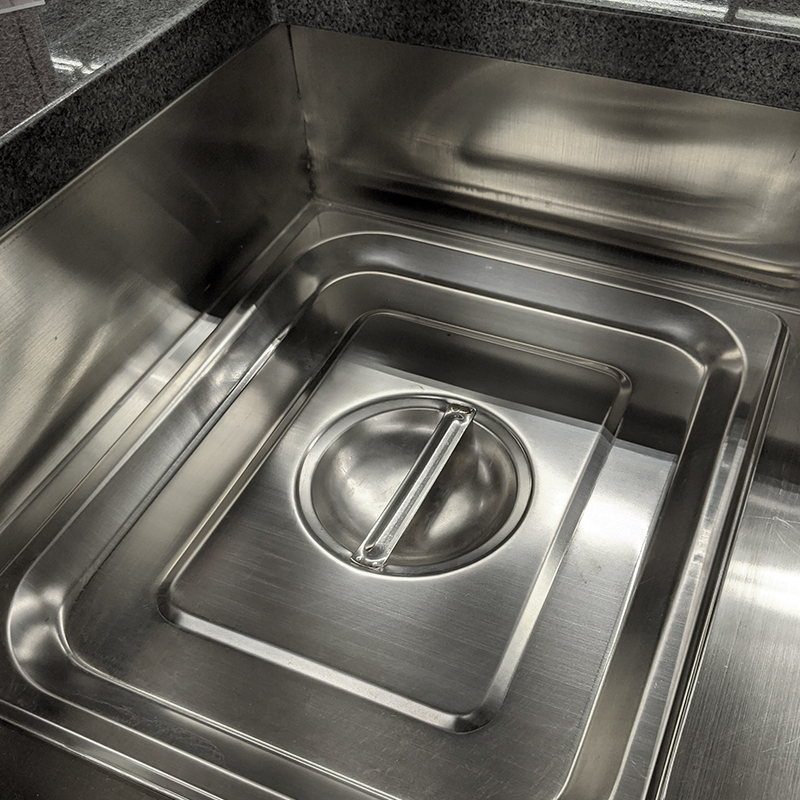 Built-in Beverage Bucket
A built-in beverage bucket allows you to add some ice and your favorite drinks while shading them from the hot summer sun. Easy access makes grabbing your next drink a breeze.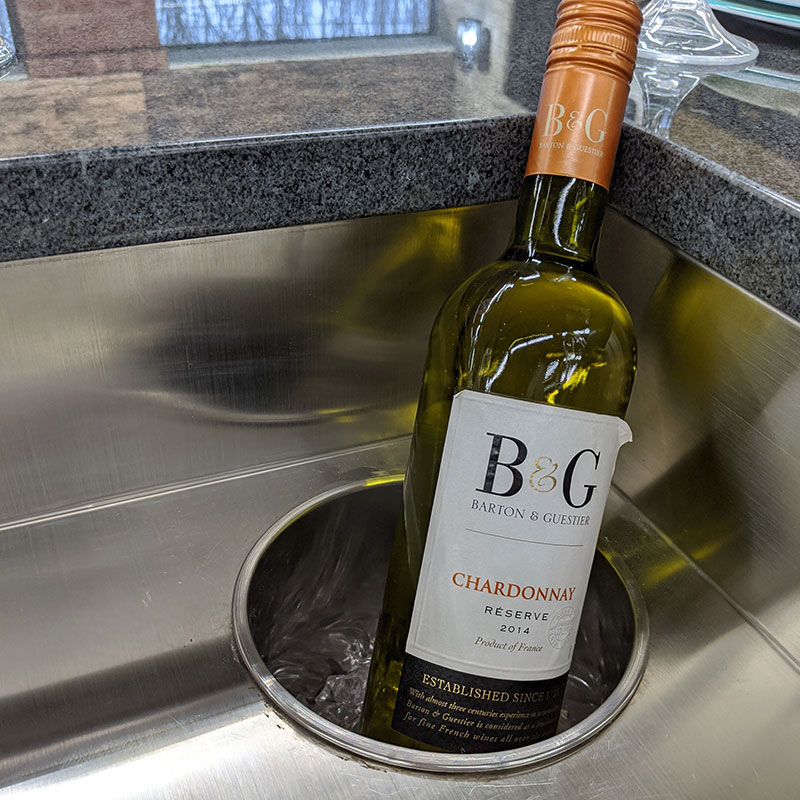 Built-in Wine Bucket
Drop some ice and your favorite wine into the built-in wine bucket to keep a cool chill for your drink. Ready to grab and serve making it easy to pour your next glass for you and your guests.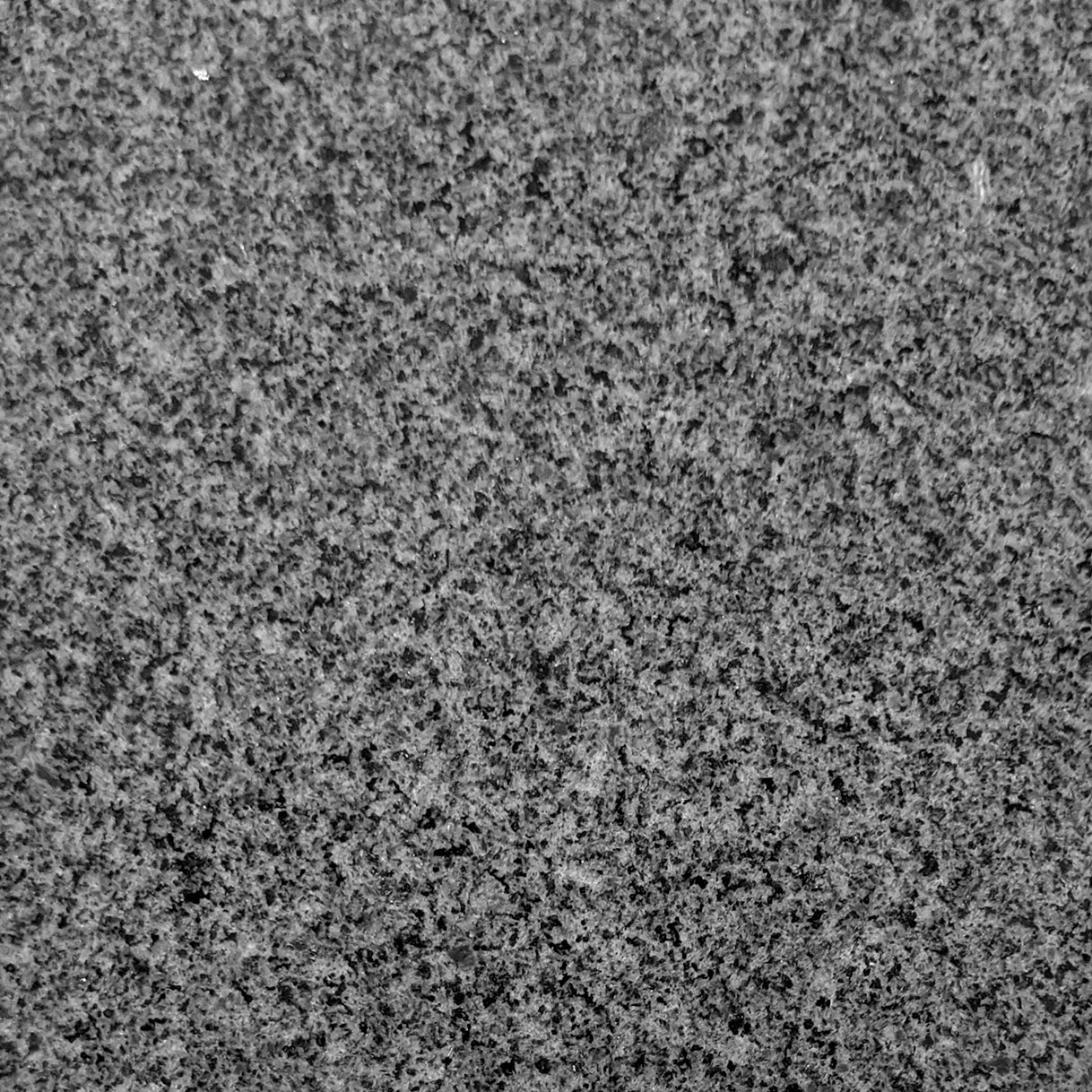 Charcoal Granite Countertops
Beautiful charcoal granite countertops are included with your kit. This natural stone allows for easy maintenance and cleaning. It's subtle color tones make the perfect match for any stone choice you add to the base. 
Easy Stone Install
Our base kits come ready-to-stone with your choice of stone. Adding stone is easy!