NICOLOCK PAVERS
Nicolock has the widest selection of hardscape products in the industry, including pavers in nearly 1,000 different combinations of colors and textures. But there's only one combination the really matters – and that's yours. What's your style: Elegant or casual? What's your vision: Formal or natural? Coastal or woodland? Whats your pleasure: Entertaining or relaxing? Browse through our selection of Nicolock's color-rich pavers, wall systems, edging borders and accessories and outdoor living spaces. You're sure to find what you're looking for. Ready? Lets go!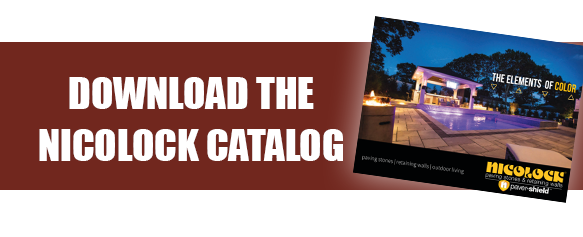 Pavers
For a hardscape design that reflects your personal style – and lasts for years to come – choose Nicolock pavers.
Accents
The finishing touch. Add that extra bit of elegance, character or stately charm to your hardscape design with a Nicolock accent.
Outdoor Living
What could be better than snuggling up by a cozy outdoor fireplace or fire pit? Or preparing a gourmet meal for your closest friends in your very own outdoor kitchen. Build memories – and outdoor living spaces – to last with Nicolock.
Nicostone
For a modern take on a beautiful natural stone, take a closer look at Nicostone by Nicolock – a cost-effective longer-lasting alternative to natural stone.
Looking for Walls?
Combine form and function with Nicolock retaining wall stone and systems. Frame your garden with traditional elegance, add rustic charm or antiqued Tuscan flair to your patio or walkway. If you can dream it, you can built it – to -last – with Nicolock. Start here.