What do you think of when you think of fall? Bright falling leaves? Football season? Pumpkin spice flavored everything? Well, there is one more thing that makes fall a unique season. Fall is the perfect season to install stone pavers in your driveway, walkway or outdoor living area.
Why is fall such a great time for stone paver installation? Well, when spring arrives you will want to spend time outside with your family and friends. You will be eager to plant your garden, host barbecues and play outdoor sports. The last thing you will want to do is get out there and install those pavers. On the other hand, spring will be the time that you will most appreciate having your outdoor space paved and looking its best. Therefore, it only makes sense to get out there now—in fall—and start installing those stones.
So, why should you choose stone pavers for your patio walkway or other areas anyhow? Obviously, they are beautiful and available in a number of different colors and sizes. However, here are five other reasons why you should choose stone pavers for your project.

Endless Design Options – While many of the paving methods available do not have many options available, pavers do. You can choose a simple look or a more elaborate design, and pavers work perfectly with both contemporary and classic home styles.
---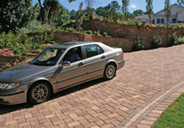 Versatile – The same pavers you use around your pool can be used to give your driveway a touch of class. Stone pavers are an excellent way to add style in any area that you need paving.
---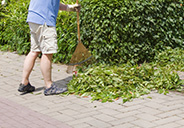 Low Maintenance – You will find that stone pavers require little in the way of maintenance. Regular sweeping and an occasional rinsing are all that is typically needed. You may want to coat or seal your pavers to add additional strength, but that is all it takes for maintaining this surface.
---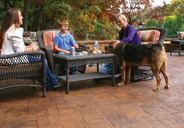 Durable – Because stone pavers move in harmony with the earth around them, they are less likely to crack and become damaged than other paving options like poured concrete. Moreover, what is harder than stone? Choosing these as a surface in any outdoor area around your house assures you years of enjoyment.
---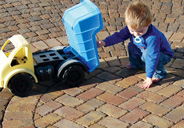 Safety – Have you ever tripped when strolling through your garden? Is the ledge around your pool uneven? Adding a stone pathway is one of the best ways to boost the safety factor in your outdoor spaces. You will have a smooth, straight surface that makes that morning or afternoon stroll safer and more enjoyable for everyone.
---
As you can see, pavers are an excellent choice for giving your driveway, walkways or patio style, and flair—and there is no better time to start installing them than fall. If you want to talk to an expert about the benefits of pavers and how to choose the right material for your project, reach out to us at Kings Materials. Stop by one of our convenient showrooms throughout NYC including Brooklyn, Staten Island, and Long Island. Alternatively, you can visit our website for more information about the products we carry. We look forward to helping you make fall into paver season for your home too!