CYCLONE TECHNOLOGY + CLEAN FILTER = 190 CFM OF PURE POWER
The iQ426HEPA Cyclonic dust extractor with hepa filtration
The iQ426HEPA Cyclonic Dust Extractor is equipped with a four stage filtration system, two of which being the primary cyclone followed by the six secondary cyclones.
Utilizing this two stage cyclonic filtration process the cyclones pull and capture large and medium sized particles out of the airstream, keeping them from reaching the third and fourth stages (Durabond Filter and HEPA Filter).
Having cyclones filtering dust and debris at the first two stages not only protects your filter from clogging up and keeps your suction strong, it also gives the iQ426HEPA the versatility to pick up different types of debris of various sizes, without you ever worrying about clogging.
What makes this Vacuum Dust Collection System (VDCS) truly unique is the two stages of cyclonic filtration because this means that less than 1% of the dust ever reaches the filter. With a clean filter, vacuum suction stays strong and operating at its optimum performance level. The cyclonic filtration process and a clean filter is what gives the iQ426HEPA its powerful 190 CFM of suction power, making it the most efficient dust extractor in its class.
4-STAGE FILTRATION PROCESS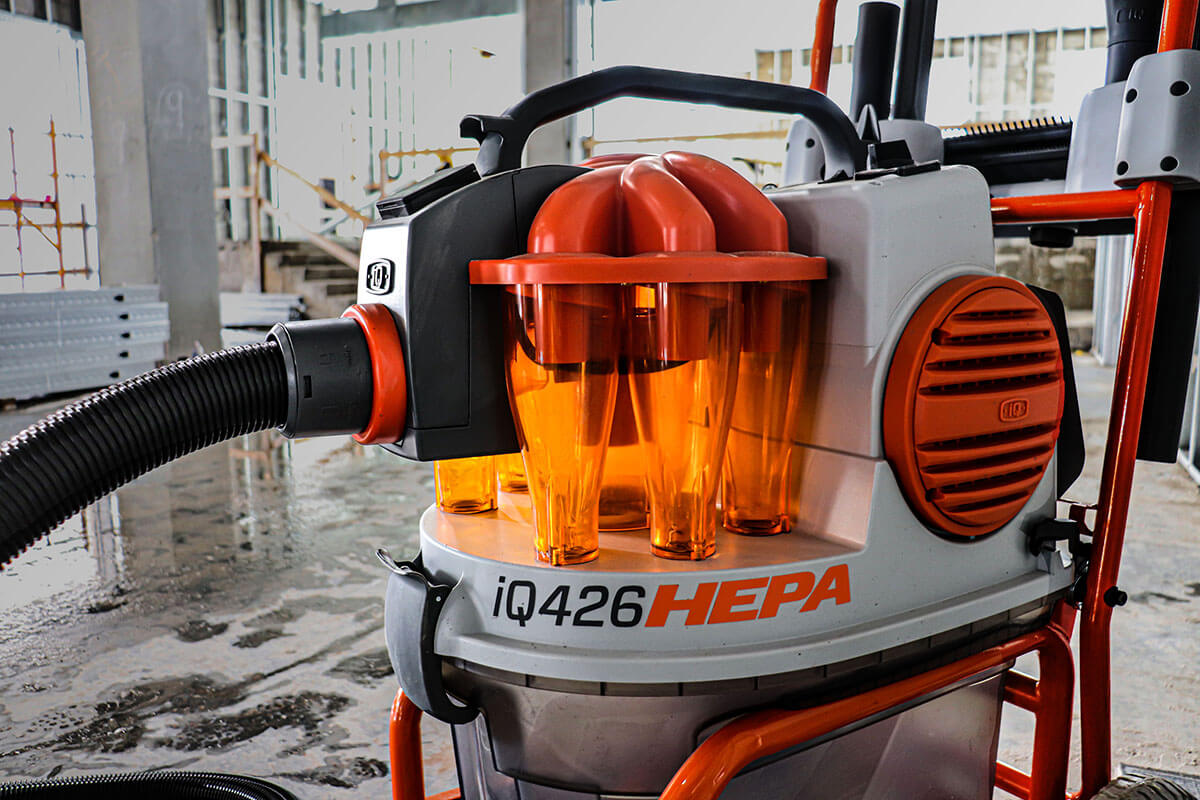 190 CFM of MAX POWER
OSHA Compliant for 7″ Grinders
50 lbs. / 10 gal. Capacity
iQ Smart Power Management
7 Cyclones
HEPA & Durabond Filtration
QuickSpin Filter Cleaning
Heavy Duty Cart + Accessory Rack
14 ft Anti Static Locking Hose
Optional Bags for Easy Disposal
The World's First 16.5" Masonry Saw With Integrated Dust Collection.
The iQM362 Dust Control Masonry Saw
Unmatched Cutting Speed and Performance

The proprietary Q-Drive® blade incorporates the latest in diamond tool technology, with a diamond layout in the matrix, spacing and segments designed to reduce turbulence and dust.
The Q-Drive® cuts 40% faster than any other blade, including masonry materials in a wide range of shapes, sizes, weights, and densities; from soft, manufactured stone to dense pavers and granite. This blade can cut through a 60mm x 4" paver in just three seconds.
Vacuum System, Filter System, Dust Containment

Featuring a 270-degree Dust Reduction System, the dust is captured within the blade guard, rear dust guard, and downdraft, louvered table via a high-powered, integrated vacuum system.
The dust passes through a 3-stage cyclonic filtration system, capturing heavy debris, fine particles, and superfine particles, capturing up to 99.5% of the dust within a 40+ pound capacity collection chamber.
In addition to its dust collection feature, the focused airflow from the vacuum keeps the blade cool to the touch while removing cutting debris so the blade isn't regrinding the same material. This process reduces friction and heat, keeps the kerf clean and extends the life of your blade.
TECHNOLOGY THAT MAKES A DIFFERENCE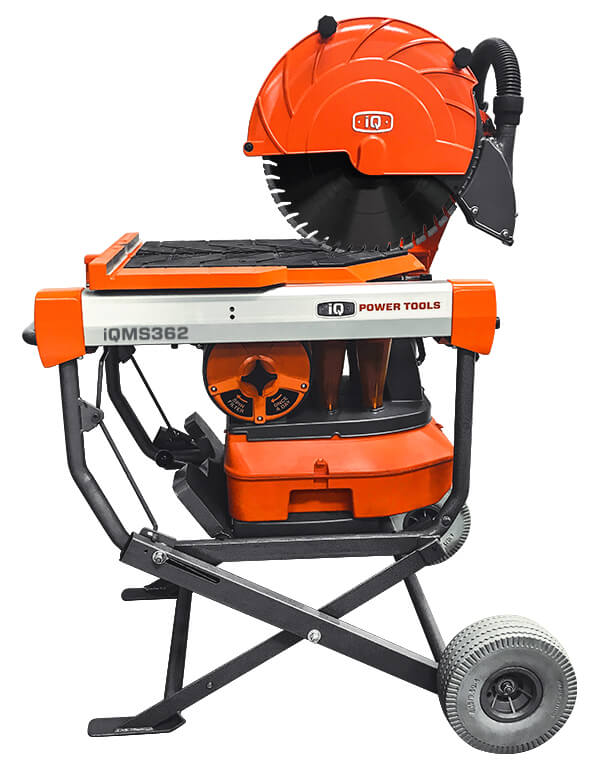 Performance
Speed, accuracy, and the ability to cut a wide range of masonry materials.
Cut brick, pavers, stone and veneer with unmatched precision.
16.5" blade allows for a 5.5" depth and a full 24" length of cut.
Cuts up to 40% faster than any other masonry saw in its class
Portability
Easy to move and transport, ideal for any location, readily available power.
High-flotation tires allow one person to move over rough jobsite terrain.
Integrated stand with a gas-shock powered lifting/lowering mechanism.
Operates on standard 120v and 20 amps.
Safety
Workers' health, safety and compliance with OSHA regulations.
Integrated dust collection captures up to 99.5% of hazardous silica dust.
Meets the 2017 OSHA silica standard.
Cut dry while protecting the health and safety of your workforce.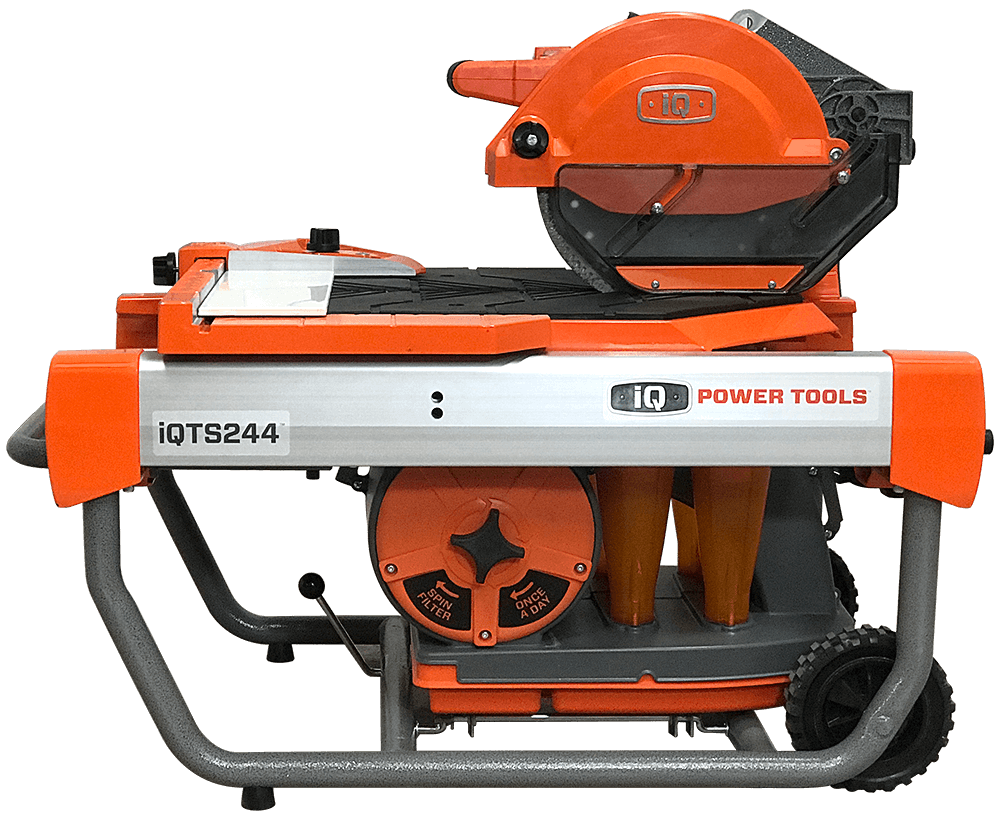 The iQS244 Dry Cut Tile Saw
Ceramics. Porcelain. Marble. Stone.
How does it cut dry without heat problems?
Tile pros know: heat is a factor. So how can you cut tile dry without water cooling the blade?
The answer is Q-Drive blade with Cool Cut Technology.
Q-Drive Blade
Our proprietary composition of diamond concentration, metal type, and flange thickness cuts cool while reducing vibration and movement.
Engineered to cut tile dry
Blade stays cool to the touch
No warping or wandering
Precision cuts match the quality of a wet blade
Built-In Vacuum
The built-in vacuum on the iQTS244 air-cools the blade while removing debris, so the blade isn't regrinding the same material, reducing friction and heat.
TECHNOLOGY THAT MAKES A DIFFERENCE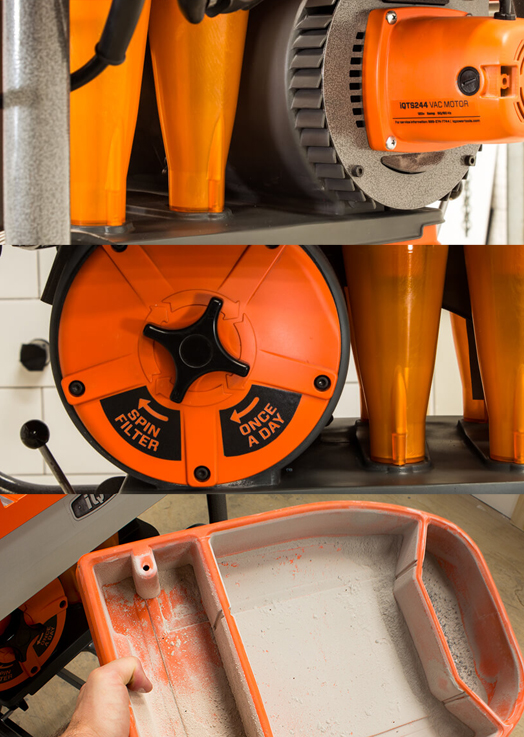 Vacuum System
Cyclone technology tested to capture 99.5% of dust
92 CFM high output vacuum
Saw automatically starts vacuum
Filter System
Three-stage filtration
Quick-Spin® filter for easy cleaning
11 sq ft iQ Dura Bond filter
Dust Containment
Empty dust tray once a day
Easy cleanup and recycling
Meets OSHA's new 2016 silica standard
No water – 100% dry cutting
Collect up to 99.5% of the dust
Cut right where you work, even indoors
Eliminate dust cleanup and problems
OSHA Compliant
The 

iQ360

XR is a game-changing tool for professionals. Cutting with no dust contractors can now save money, eliminate the mess and pain of dust problems and protect the health of their workers.
The iQ360XT tested to capture up to 99.5% of the dust
The iQ360XR is tough, built for professionals and designed to last. With basic maintenance – like changing the filter once a year – your iQ360XR will last for years.
Cleanup
If you have to pay one guy $15/hour to clean up dust every day, for one hour, that adds up to $300 a month.
Wasting Time
If your guy has to walk outside or across the job site to make every cut, doing 150+ cuts a day while hauling materials, he spends an hour or more just walking back and forth, another $300+ a month.
Just using those figures – which are conservative for many contractors – that adds up to $600 per month or $7,200 a year. It can cost even more. Have you ever had to power wash a building? Pay for a customers car wash, or pay to clean their windows? Most of us have experienced at least one of these. They're rarely cheap, never fun, and they cut straight into your profits.
Controls cost money too. Personal protective equipment, tarping off your cutting area and cutting wet all cost money, they're all a pain and they're marginally effective.
The iQ360XR eliminates
A) dust cleanup
B) wasted time
C) the cost of marginally effective controls.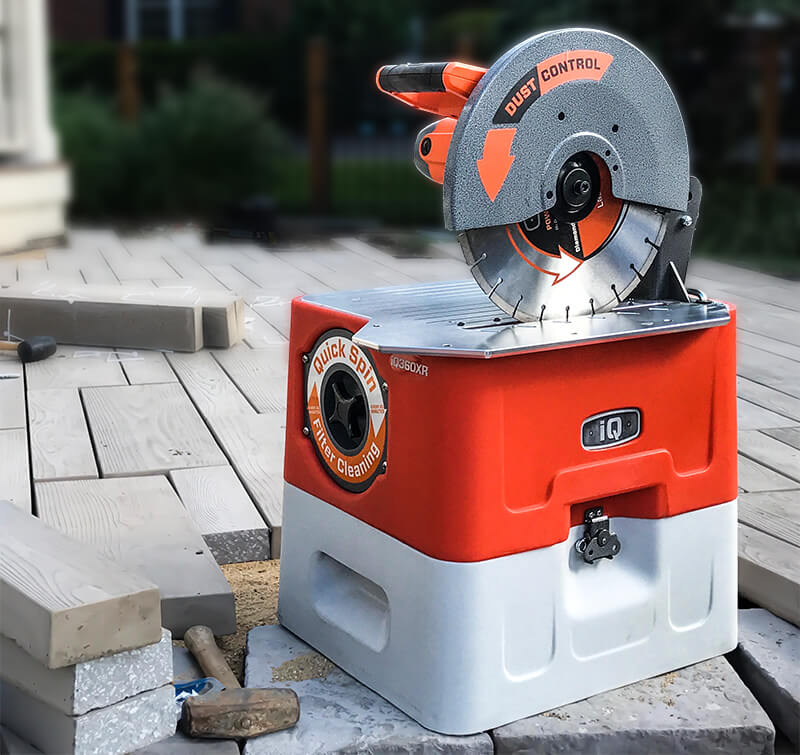 14″ Masonry Saw for Brick Stone & Pavers
New sealed rocker power switch
Soft Start technology reduces AMP draw on start up
Fully-Integrated Dust Collection System
Tested to Capture 99.5% of the Dust
Compact & Lightweight—Easy to Transport
Made of Tough High-Impact Materials
Wide Table Design Allows for Cutting Larger Materials
Quick-Spin

®

 

Filter for Easy Cleaning
Specifications
VOLTAGE: 120v
TOTAL SYSTEM AMPERAGE: 20amps
SAW MOTOR AMPERAGE: 15amps
VAC MOTOR AMPERAGE: 5amps
SAW WEIGHT: 65lbs
DIMENSIONS: 17″w × 20″l × 30″h
BLADE SIZE: 14″
SPINDLE SIZE: 1″
FILTER TYPE: iQ Dura Bond Cartridge
CUTTING DEPTH: 4.5″H x12″L
DUST CAPACITY: 1 cu ft
SAW DIMENSIONS: 17″W x 20″L x 30″H
EXTENSION CORD: 25ft/12 guage or 50ft/10 guage
GENERATOR: 4500 watt
Dry Cut Masonry, Concrete & Stone With Virtually No Dust
The iQ1014S Portable Dust Collection System
Cut dry and dustless with the iQ1014S portable dust collection system. Easy to transport with heavy duty wheels & handle, fits through 36″ doorways. Great for multi-story projects & placing directly on scaffolding.
Portable dust collection for 14″ masonry saws
Eliminates wet cutting problems.
No more slurry or stain on finished product, freeze/thaw problems with cut materials, mud hazards or contaminated soil.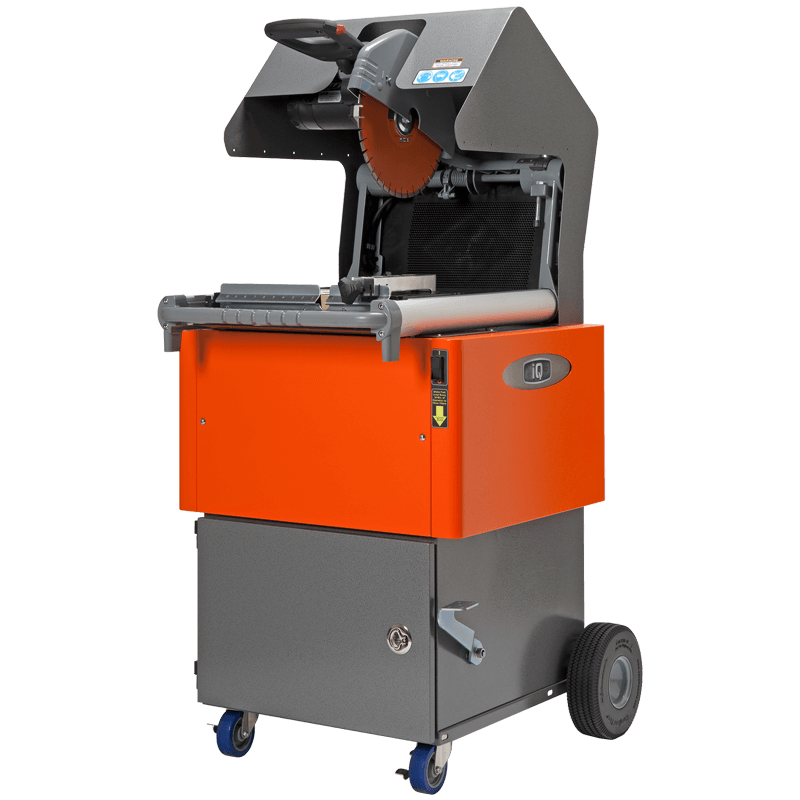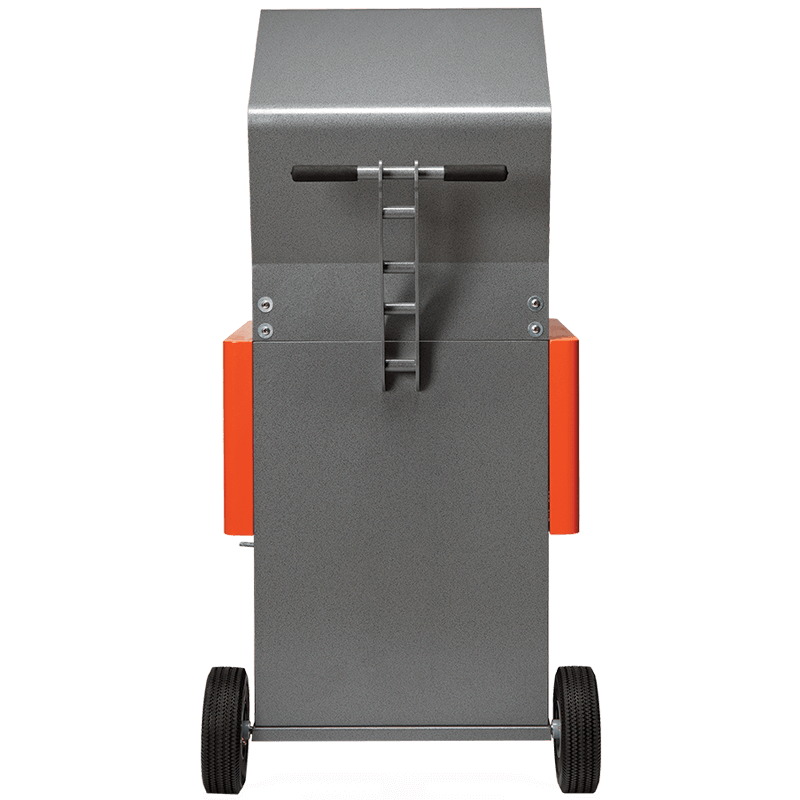 Heavy Duty Dust Collection System for 20″ & 24″ Masonry Saws
The IQ2000 Dry Cut Masonry Dust Control System
Imagine a jobsite with no slurry and no stained finished product. How about never laying wet brick or block again. With the iQ Power Tools iQ2000 system you can cut inside or outside with ease. It's powerful vacuum and easy clean filter allow you to focus on your work and not the dust.
No setting wet brick & block
Eliminates slurry and stain finished product
Cut inside or out
Great for multi-story projects
Fits most conventional 20″ & 24″ saws
Dry Cut Masonry Dust Collection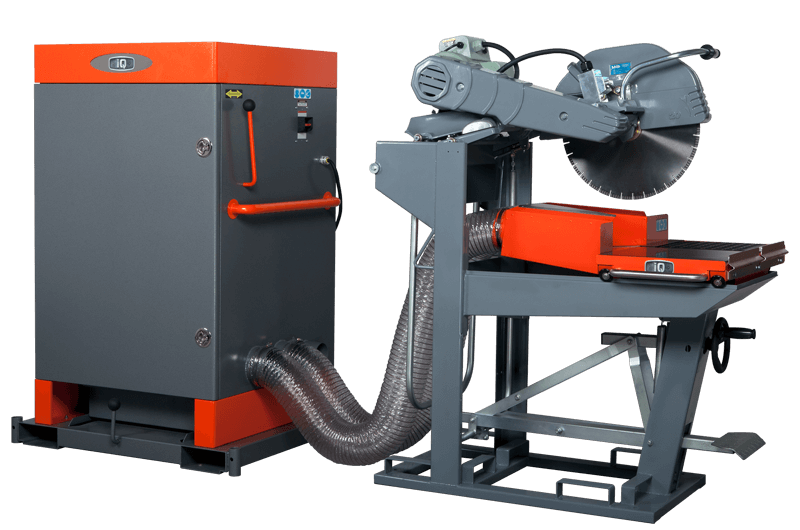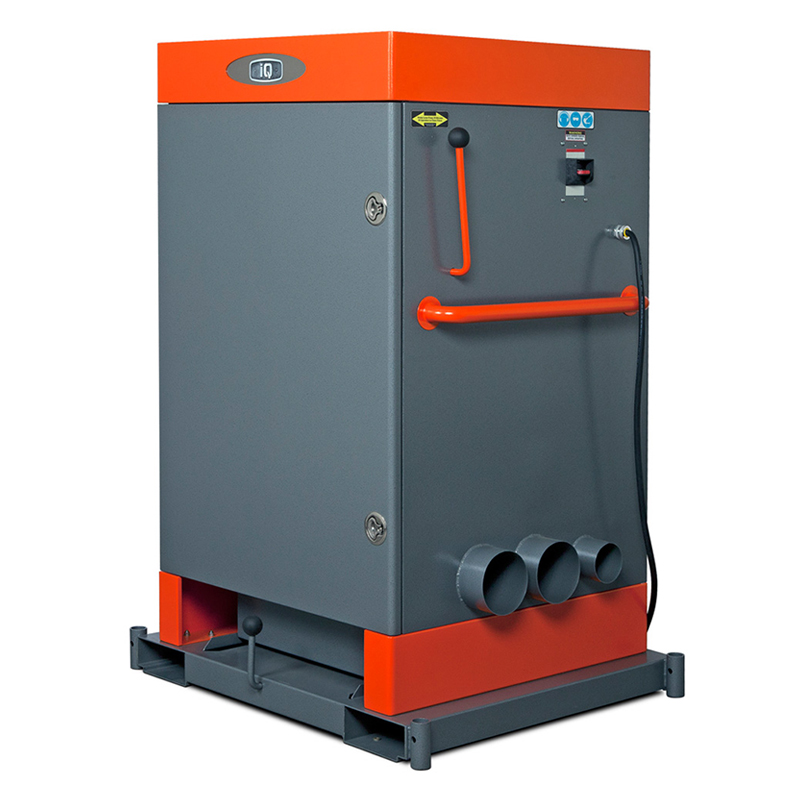 The World's First Power Cutter With Integrated Dust Collection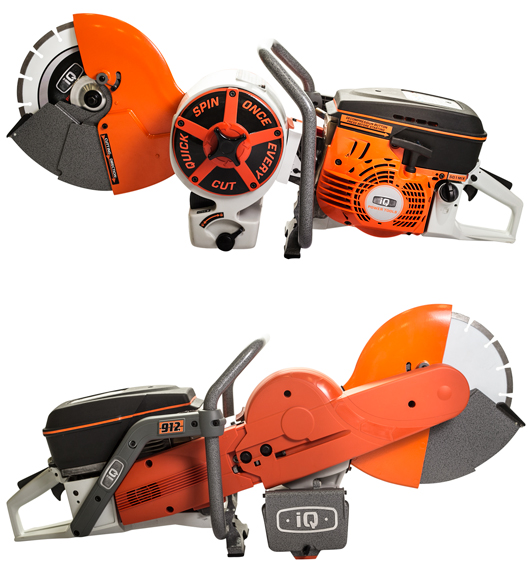 Cut dry with integrated dust collection.
Concrete. Pavers. Brick. Stone.
You cut wet, because you have to. Slurry gets all over the work area, the finished product and the operator. It clogs up the saw, you may have to clean out the water bucket, drainage can be an issue, storm water protection and you have to dispose of it. Cutting wet costs time, money and it's a pain.
Welcome to a world without slurry. With the iQPC912VSK you'll never have to cut wet again.
A Tool That Saves You Money
The iQPC912VSK can save you thousands of dollars.
Cleanup: Paying one guy $15/hour to clean up dust or slurry, for one hour every day, adds up to $300 a month.
Controls: Personal protective equipment, tarping off your cutting area and cutting wet cost money and they're marginally effective.
Business: Blowing dust onto houses, cars and landscapes makes unhappy customers and can cost you future business.
Just using these cleanup figures—conservative for many contractors—the cost of dust adds up to $3,600 a year.
The iQPC912VSK eliminates:
a) dust cleanup
b) cutting wet
c) the cost of marginally effective controls
This tool makes your business more profitable.
Dry Cut Masonry Dust Collection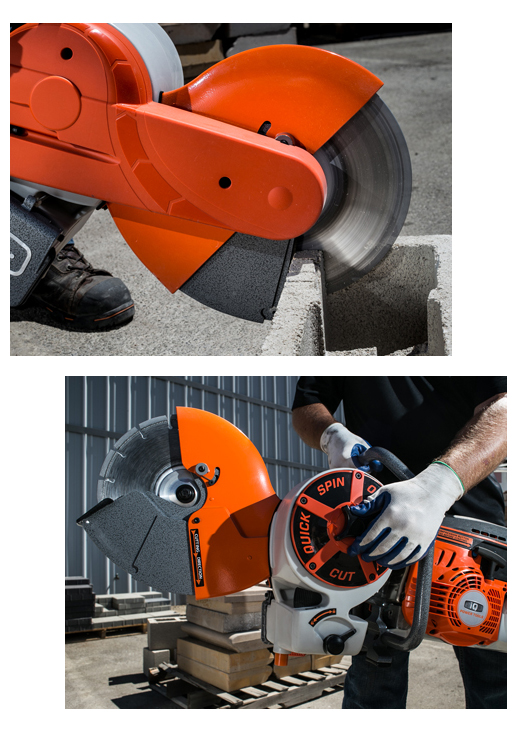 The iQPC912VSK is tough, built for professionals and designed to last. With basic care and maintenance your iQPC912VSK will last for years.
93cc, 6-HP, 2-Stroke Engine (EPA 3 Certified)
QuickSpin Filtration
Dust Containment Chamber with Easy Dust Disposal
Balanced, Ergonomic Design
Made of Tough High-Impact Materials
12" Premium Diamond Blade Included
Designed and Built in the USA
Since the first prototype the iQPC912VSK has gone through months of iterations and systematic testing, often for periods of 6-7 hours per day in 90+ degree temperatures. With proper care and maintenance, this professional tool is designed and manufactured to hold up under demanding conditions.