Henry® Company is the most complete provider of Building Envelope Systems® that control the flow of water, air, vapor and energy in a building.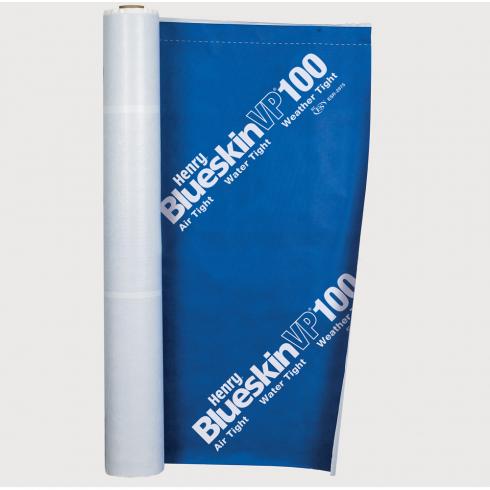 Blueskin® VP100
Self-Adhered Water Resistive Air Barrier Membrane
This next generation vapor permeable air barrier picks up where traditional polymeric wraps leave off. Ideal for wood frame construction, Henry® Blueskin® VP100 is a fully adhered, peel-n-stick system that eliminates air leakage while functioning as a water-resistant barrier and rain barrier.
Part of the Fortifiber® 1-2-3 moisture control system, Blueskin® VP100 is designed to withstand the rigors of the jobsite and the elements, and is backed by an industry-leading 15-year warranty.
Features
Increases building longevity by providing greater moisture and water protection than traditional water-resistant barriers
Enhances occupant comfort by eliminating drafts
Improves building thermal performance for reduced energy costs
Improves air quality by helping to reduce mold proliferation
Installs easily with common hand tools
Packaging
Roll length: 100ft
Roll widths: 4", 6", 9", 12", and 48"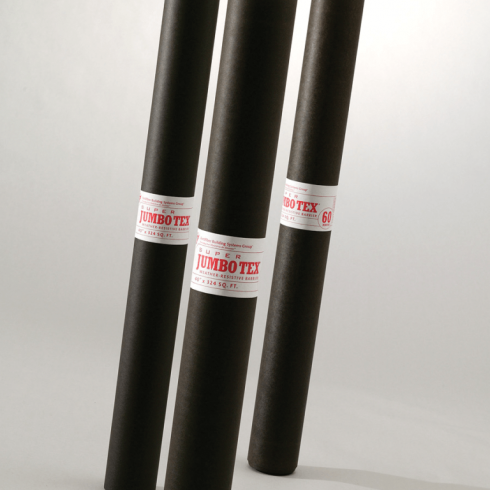 Super Jumbo Tex® 60 Minute is the industry's leading 60 Minute weather-resistive building paper, with an unmatched track record of performance in the field. It is a member of the Jumbo Tex product line that has been chosen by builders and architects to protect over millions of homes and commercial buildings from the problems caused by water intrusion and excessive moisture.
Super Jumbo Tex® 60 Minute is used in production, custom residential and commercial construction where there is a need for a high performance weather-resistive barrier. The product delivers over six times the water protection of standard Grade "D" paper, while providing optimal breathability, to prevent the potential for moisture condensation within exterior walls. As important, it has the rugged durability necessary to resist tearing and puncturing on the jobsite.
Part of the Fortifiber® 1-2-3 moisture control system, Super Jumbo Tex 60 Minute® is designed to withstand the rigors of the jobsite and the elements, and is backed by an industry-leading 15-year warranty.
Features
Solid protection against moisture problems
Strong water resistance
Low VOC: meets CA 01350 for indoor air quality
Excellent price performance
Ideal balance between water resistance and permeability
For stucco, fiber cement siding, brick, vinyl and wood siding
Reduces air infiltration
Packaging
40″ x 240 sq. ft.
40″ x 324 sq. ft.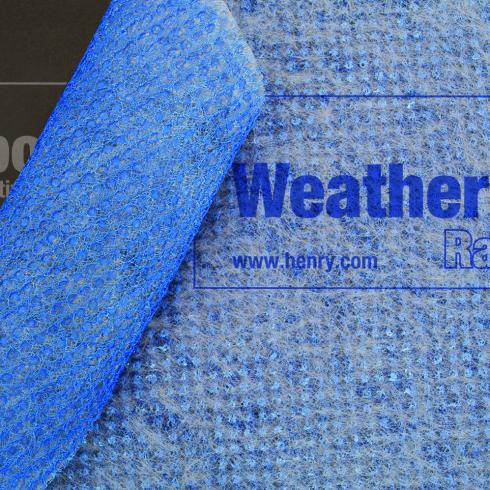 Compatible with all cladding types, WeatherSmart® Rainscreen provides a 6mm gap between cladding and weather-resistive barrier, creating space for ventilation. The 3D matrix polypropylene strands channel water down and out of the wall assembly and the built-in fabric protects the gap from debris. The result is faster-drying wall assemblies and reduced risk of unhealthy mold, rot and mildew.
WeatherSmart® Rainscreen is an accessory to the Fortifiber® 1-2-3 Moisture Control System™ of flashings, weather-resistive barriers and sealants. All system components can be used together with confidence. WeatherSmart® Rainscreen may carry a 15-year warranty.
Features
Creates gap between weather-resistive barrier and cladding that enhances ventilation and improves drying
Serves as a protective layer between stucco and weather-resistive barrier
Compression-resistant polypropylene strands channel water down and out of wall system
Reduces risk of mold and mildew for better building health
Meets code requirements (6mm)
Compatible with all standard cladding types
Packaging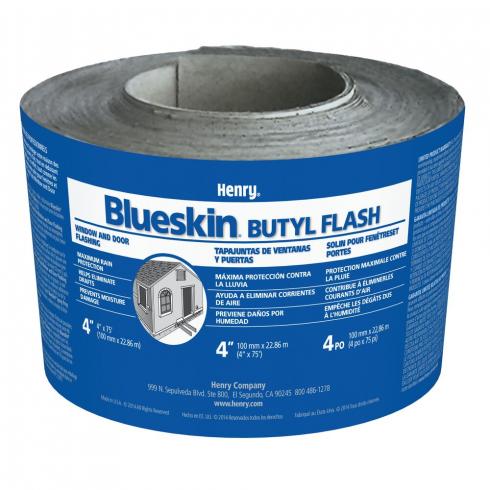 Blueskin® Butyl Flash is a self-adhered flashing consisting of a synthetic butyl compound which is integrally laminated to a white engineered polypropylene film surface. The flashing is specifically designed to be self-adhered to a prepared substrate.
Features
Impermeable to air, moisture vapor and water
Easy self-adhered application
Self-sealing when punctured
Excellent cold weather adhesion
Highly flexible making installation easy
Packaging:
4" x 75'
6" x 75'
9" x 75'
12" x 75'
Color: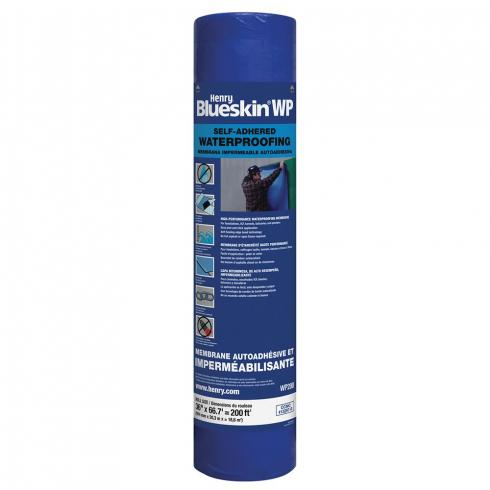 Blueskin® WP 200
Self-Adhered Waterproofing Membrane
Blueskin® WP 200 is a self-adhered composite membrane consisting of an SBS rubberized asphalt compound, integrally laminated to a blue, high-density polyethylene film. The membrane is specifically designed for self-adhering to a prepared substrate, and provides a high-performance waterproofing barrier.
Features
SBS membrane flexible at low temperatures
Fully adhered systems prevent lateral water movement
No flame required
Factory controlled thickness
Negligible odor during application
Packaging
Thickness – 60 mils (1.5 mm)
Roll Length 66.7ft
Roll Width – 36″
Gross Coverage – 200 ft2
Net Coverage* – 186 ft2
*Based on 65 mm laps both side and end laps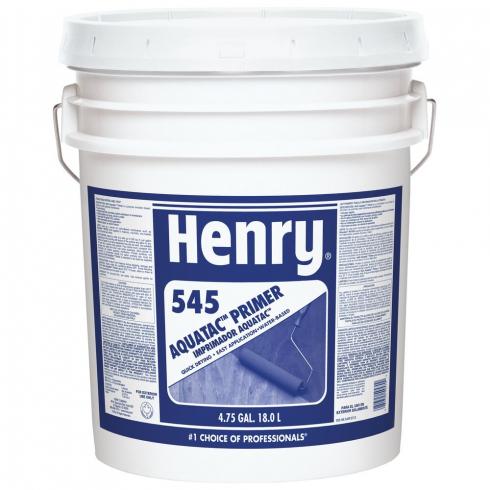 Aquatac Primer
Emulsion Primer for Self-Adhesive Membranes
Aquatac Primer is a polymer emulsion based primer for self-adhered membranes.
Features
Quick drying
Environmentally friendly due to low VOC content
Highly tacky film provides positive adhesion to membrane
Non-flammable during application
Easily applied by spray
Water based, no solvent odors
Specially designed to provide a high level of tack on vertical surfaces
Packaging
Available in 1-gallon & 5-gallon pails Aqua-Bloc® WB
Elastomeric Asphalt Emulsion Waterproofing
Aqua-Bloc® WB Elastomeric Asphalt Emulsion Waterproofing is an elastomeric, liquid-applied, emulsified asphalt membrane. It is designed for below grade waterproofing of foundation walls and other structures. Aqua-Bloc® WB complies with, and exceeds, the requirements of CAN/CGSB 37.2.
Features
Water-based and low VOC
Seamless low modulus elastomeric membrane
Excellent adhesion to most construction surfaces such as concrete, stone, wood, preserved wood, metal and polystyrene
Retains flexibility over a wide temperature range
Perfect for waterproofing ICF (Insulated Concrete Forms) foundation walls
Can be applied to damp or green concrete
Can be applied in one coat or in multiple coats with reinforcing fabric
Bridges cracks
Contains no solvent
Packaging
5 gallon and 55 gallon drum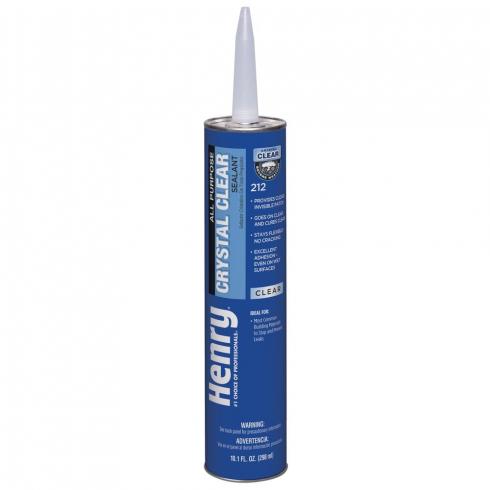 Henry® 212 All Purpose Crystal Clear Sealant
Henry® 212 All Purpose Crystal Clear Sealant is a one-part, highly elastic, high-performance thermoplastic sealant. The sealant exhibits excellent adhesion to a variety of construction materials. It can be applied to wet or dry surfaces and has excellent low temperature flexibility. It is non-staining, non-sagging and skins over, tack free within 30 minutes.
Features
Provides clear, invisible patch
Goes on clear and cures clear
Remains flexible – no cracking
Excellent adhesion, even on wet surfaces
Packaging
10.1 oz cartridge
1 Quart
Color